"Providing Customers with qualified, trained and medically fit shipboard personnel.
MONTECREW LTD
Who We Are

MONTECREW LTD IS A PRIVATE CREWING AGENCY, BASED IN BAR ON THE SOUTH ADRIATIC COAST OF MONTENEGRO.
Our Crew
HERE ARE JUST SOME OF THE REASONS WHY YOU SHOULD PICK OUR CREW.

Seafarers by Nature
Trained Crew
Fluent in English
Hard-Working
Flexible
Reliable and Loyal
Easily get American visa
Easily traveling without visa in Schengen zone
Same currency euro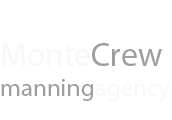 Ready to Talk?
DO YOU HAVE A BIG IDEA WE CAN HELP WITH?